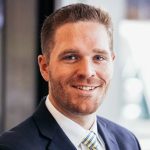 Slayton Search Partners, a globally respected leader in retained executive search, is excited to announce that John Ratliff has been promoted to the position of Senior Vice President & Principal. He will be expanding his efforts to develop impactful relationships and recruit key leaders in the consumer and industrial sectors.
"It's been amazing to grow my career within this deeply respected search firm and alongside such accomplished teammates," shared John. "I'm looking forward to many more years at Slayton where I can continue to contribute and thrive."
Since joining the firm in 2018, John has conducted searches for many top-tier companies, while providing clients with valuable insight and discernment in an ever-evolving marketplace. He has been a key contributor to the firm's consumer and industrial practices.
Prior to joining Slayton, John thrived at Stanton Chase International, where he developed and executed search work across leadership functions for a wide spectrum of industry verticals.
"John has proven himself highly capable of fulfilling the expectations of a Senior role on our team," said Richard Slayton, Managing Partner & CEO of Slayton Search Partner. "He has a bright future ahead of him as he continues to achieve tangible results for our clients and support the Slayton culture."